MEGGLE Excipients & Technology at 3rd Inhalation China Symposium
It is a matter of fact that Asthma and COPD (Chronic Obstructive Pulmonary Disease) are two kind of diseases which seriously  damage people´s health and lifes. Drug delivery to the lungs via Dry Powder Inhalation can help to prevent and treat these diseases.
Therefore it is our pleasure to attend the 3rd Inhalation China Symposium which takes place in the Zhejiang-Hangzhou International Expo Center. It will be a perfect opportunity to exchange expertise knowledge in the field of Dry Powder Inhalation.
Speaker Session:
Dr. Mirjam Kobler – Head of R&D at MEGGLE will have the chance to talk about:
"Formulation Strategy for DPI: From Fundamental Understanding to Industrial Application"
Date: 06. May 2019 | Time: 16.00 – 16.45
More informations about the Event you can find under the following Website.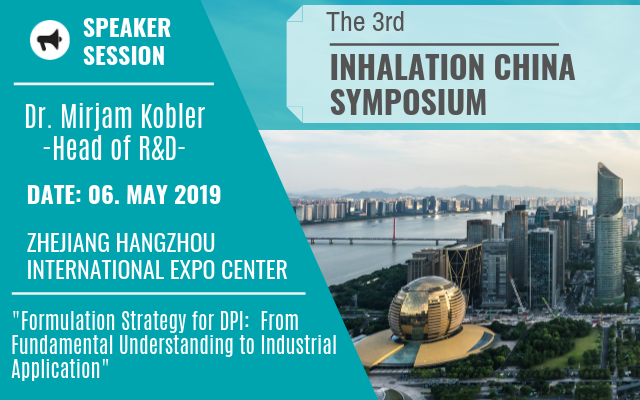 Let´s meet in Hangzhou
If you would like to meet one of the MEGGLE colleagues during the 3rd Inhalation China Symposium, please feel free to contact us via the e-mail address: service.pharma@meggle.de in order to set up a meeting.